Red raspberry seed oil can help keep the skin moist, nourishing enough as well as avoid unpleasant problems like acne or inflammation.
When skin is dry or inflamed, you can correct the problem by using red raspberry seed oil. So did you know that this natural oil has many other benefits to skin beauty?
1. Anti-inflammatory
Red raspberry seed oil contains high amounts of antioxidants and essential fatty acids such as alpha-linoleic acid. These help fight oxidative stress and reduce inflammation. This oil also contains ellagic acid, a natural antioxidant found in many different fruits such as strawberries, raspberries and raspberries. cherry. This antioxidant not only prevents inflammation and tissue damage, but also enhances your skin's health.
The anti-inflammatory effects of red raspberry seed oil also ease symptoms of inflammatory skin conditions such as eczema, blushing, and psoriasis. This natural oil can moisturize and soften the skin as well as reduce skin irritations such as itching, swelling and redness.
2. Provide vitamins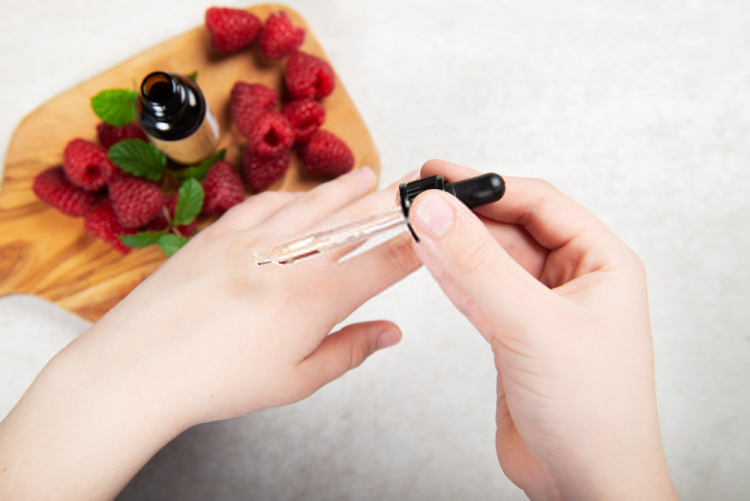 Red raspberry seed oil is also a good source of vitamin A and vitamin E. Vitamin A promotes healthy skin cell growth and regeneration, making skin smoother and firmer. Vitamin E is an antioxidant, so it can help fight inflammation, reduce scarring and replenish collagen in the skin.
3. Moisturize the skin
The phytosterosis in these natural oils can help reduce water loss through the skin. This keeps skin hydrated and moisturized enough. At this time, the skin will always be healthy and smooth. You just need to apply a few drops of this natural oil to the skin to help skin increase moisture. Once applied, the dry areas will also soften.
4. Prevent aging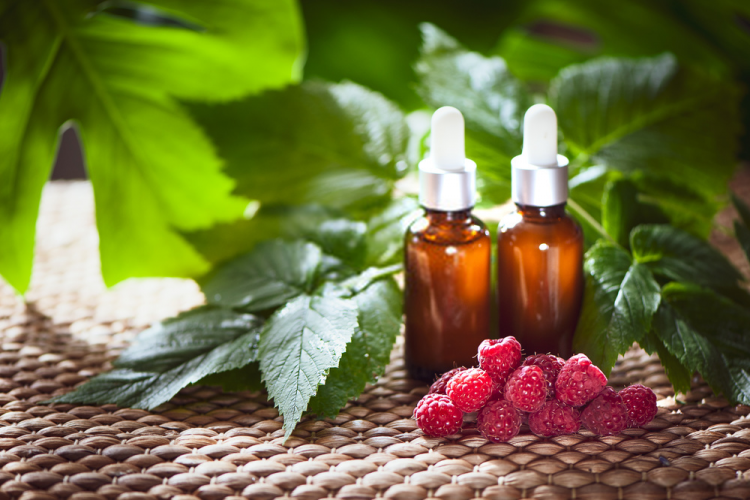 Red raspberry seed oil is rich in antioxidants, vitamins A and E, so it can slow down the aging process, stimulate collagen production and help skin look younger and younger. This is a natural oil that helps you to maintain the youthfulness of your skin naturally.
5. Prevent and treat acne
Common acne treatments contain either benzoyl peroxide or salicylic acid. However, these acne ingredients can dry out the skin. If you want to treat acne safer, you can try raspberry seed oil. This oil works to treat acne by containing linoleic acid that helps rebalance the natural oils on the skin. In addition, this oil doesn't clog pores, so it can also help prevent breakouts.
6. Sunscreen for skin
According to research, red raspberry seed oil can absorb UVB and UVC rays. This oil can also give you partial protection against UVA rays, which can increase your risk of skin cancer and other skin problems like wrinkles and premature aging. However, this oil's resistance to UV rays is not enough to help prevent skin cancer. You can still use the oil in combination with sunscreen to add more moisture by applying this oil to your skin before applying sunscreen.
Red raspberry seed oil is not only beneficial for the skin but also good for the oral health as it can help you improve gingivitis. Gingivitis can be caused by plaque and bacteria that accumulate in the mouth. This oil can reduce bacteria in the mouth and soothe inflammation around the gum tissues. From there, you can ease the redness, swelling, and pain of the gums. You can use the above oil as a mouthwash or choose a toothpaste that contains this natural ingredient.
Red raspberry seed oil can help smooth, youthful skin as well as avoid conditions like acne, dryness or inflammation. This is a natural ingredient that helps you to protect the skin's beauty safely.
Nhu Vu | Health CPN
The articles of Hello Health Group and Health CPN are for reference only, and are not a substitute for medical diagnosis or treatment.
Source link < 6 Benefits of Red Raspberry Seed Oil for Skin Beauty > HealthCPN.com