In addition to skin care during the day to give you a youthful and radiant face, do not forget to take steps to take care of your face at night. These skincare steps will keep you fresh to start your day.
By knowing how to take the steps of facials at night, you will help your skin rejuvenate, healthy and look full of vitality. Night is also an ideal time to nourish your skin because your skin is not affected by factors such as air pollution, sunscreen or the harmful effects of UV rays.
You only need 6 following skincare products to prepare for the evening skin care steps:
Makeup remover products
Milk or facial cleanser
Toner (rose water)
Serum (skin essence)
Retinol (extracted from vitamin A1)
The moisturizer is suitable for the skin
The steps to take care of facial skin at night need to be done in the right order for you to have pink and radiant skin as desired. You should not reverse the order of skin care because they can destroy the benefits of the products.
After you have prepared your skin care products, start with the following night skincare steps below.
Step 1: Remove make-up to help clear skin
Makeup remover is one of the most important steps that you should not skip to help lighten and even tone your skin at night. When you wear makeup but do not clean your skin at night or do not remove it, it will easily clog pores, cause acne, increase the amount of oil on the skin, causing dry and cracked skin.
♥ How to remove makeup: Put a makeup remover or cream on your hand and gently massage your nose, cheeks, chin, forehead. Then you use a tissue remover to wipe off the cream and milk, and then use cotton to wipe your face clean again. For the eyeshadow, use an oil-based makeup remover to the cotton and then hold it on the eye area for about 5 seconds and gently wipe from the inside out. Do the same for the lip area until the powder and lipstick are removed.
You should gently remove skin makeup, not pull the skin too hard, especially in the eye area to prevent wrinkles.
Step 2: Clean skin to remove dirt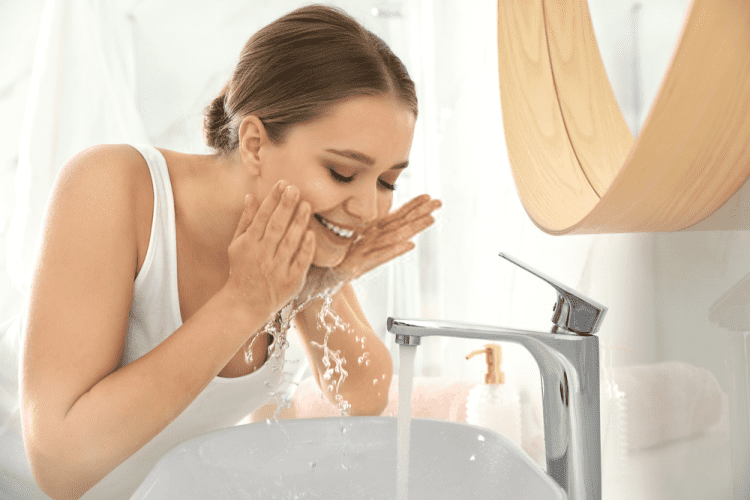 Once you've removed your make-up, move on to cleansing your face. This second step is indispensable in the evening facial care steps for the following reasons:
• Remove dirt that has accumulated on the face: Washing your face after a day of outdoor activity will help remove dirt that has accumulated on your face.
• Avoid clogging pores that cause acne: When washing your face, you will prevent clogged pores that cause acne due to excess oil, makeup residue, and sweat remaining on your face.
• Helps absorb skin care products more easily: Washing your face the right way will help you absorb the skin care products more easily.
♥ How to wash your face: Wet your face and then use an exfoliating cleanser to not only remove dead skin cells, but also remove dirt and makeup residue. Then you massage your face gently and rinse your face.
If you have sensitive skin then it is better to use a foaming cleanser. If you have dry skin, use an oil based cleanser.
Step 3: Use toner to provide moisture to the skin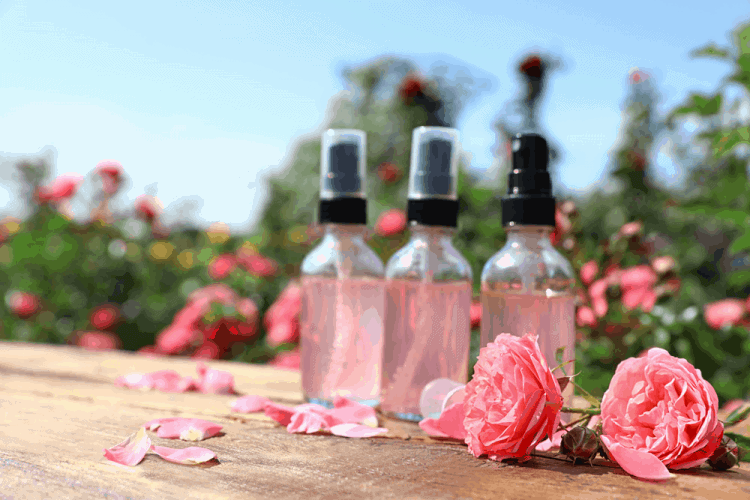 Toner can give your skin many benefits such as minimizing pores, balancing PH, moisturizing and protecting skin. For these reasons, toner is also often an indispensable product for women.
♥ How to use toner: After cleansing your skin with cleanser, put 2-3 drops of toner on a cotton pad and apply evenly on your face. Then, you gently wipe the entire face but do not rub too hard, just keep enough force to absorb the toner into pores. You should also only take an amount just enough to moisten your face, not too much.
Using toner is quite useful for those with oily or acne-prone skin thanks to its effective sebum control and reduction of large pores. If you have acne, use toners that contain the ingredients AHA and BHA because they have the ability to clear bacteria and unclog pores. If you have sensitive skin, choose natural and non-alcoholic products to soothe your skin.
Step 4: Use a serum to rejuvenate the skin
The skin care serum is loved by many women and chosen by many features to help rejuvenate the skin. Serum has the main effect of helping you prevent aging, whiten skin, prevent dark spots, moisturize, exfoliate and regenerate skin.
♥ How to use the serum: Choose a serum that is suitable for your skin, then place a few drops of the serum on your forehead, nose, chin, cheeks, and gently massage your skin. Gently massage the skin will help nutrients from the serum penetrate deeper into the skin, maximizing the effect.
Similar to other skin care products, do not stretch or rub the serum vigorously against the skin, which will damage and sag the skin quickly.
Step 5: Use retinol to help regenerate the skin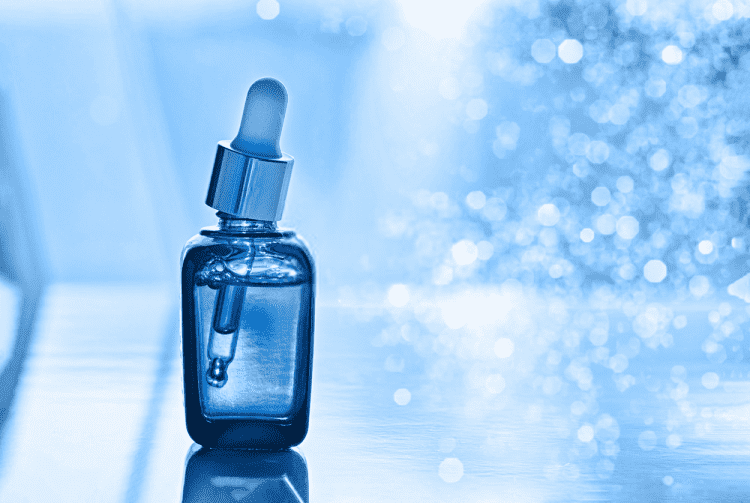 Retinol is a derivative of vitamin A that helps your body produce a lot of collagen, so it is very effective in regenerating the skin, preventing wrinkles, crow's feet, helping the skin to be even and supporting acne treatment.
♥ How to use retinol: After using the serum, keep your skin dry and apply a thin layer of retinol to your face.
You should only use retinol at night as it can make your skin sensitive to sunlight and light. If you are using retinol for the first time, you should only use it at the lowest% concentration and use once a week and then increase gradually. Also, be sure to use sunscreen during the day because retinol makes your skin more susceptible to sunburn.
Step 6: Use moisturizer to smooth the skin
You only have one last step of skincare to finish facial skin care steps at night. At this point, use a moisturizer for your skin to get benefits such as preventing flaking, locking in moisture, anti-aging, protecting skin and helping skin stay moisturized all night.
♥ How to use moisturizer: Take a generous amount of moisturizer into your hand and then heat the cream by rubbing your palms together. Then you put the cream on your face, smooth gently from bottom to top and avoid rubbing too hard on the skin.
Nighttime facial treatments are even more effective when you use a silk pillowcase to help keep your skin and hair from wrinkling. Besides, you can use a sleeping mask to help relax the body and have a better sleep. You also need to drink 8 glasses of water a day to stay hydrated and help your skin glow.
Before using any product on your face, always make sure to check your skin for allergies to ingredients in the skin care product. You should also be gentle with your facial skin to avoid sagging and do not use too much facial skin care products to cause waste.
Hoa Vu | Health CPN
The articles of Hello Health Group and Health CPN are for reference only, and are not a substitute for medical diagnosis or treatment.
Source link < Steps to take care of facial skin at night before going to bed > HealthCPN.com